The draft start list is available online  BY CLICKING HERE.
Please check to confirm you are in the correct category. Please send all changes and queries via email to kingsclifftri@nxsports.org as soon as possible.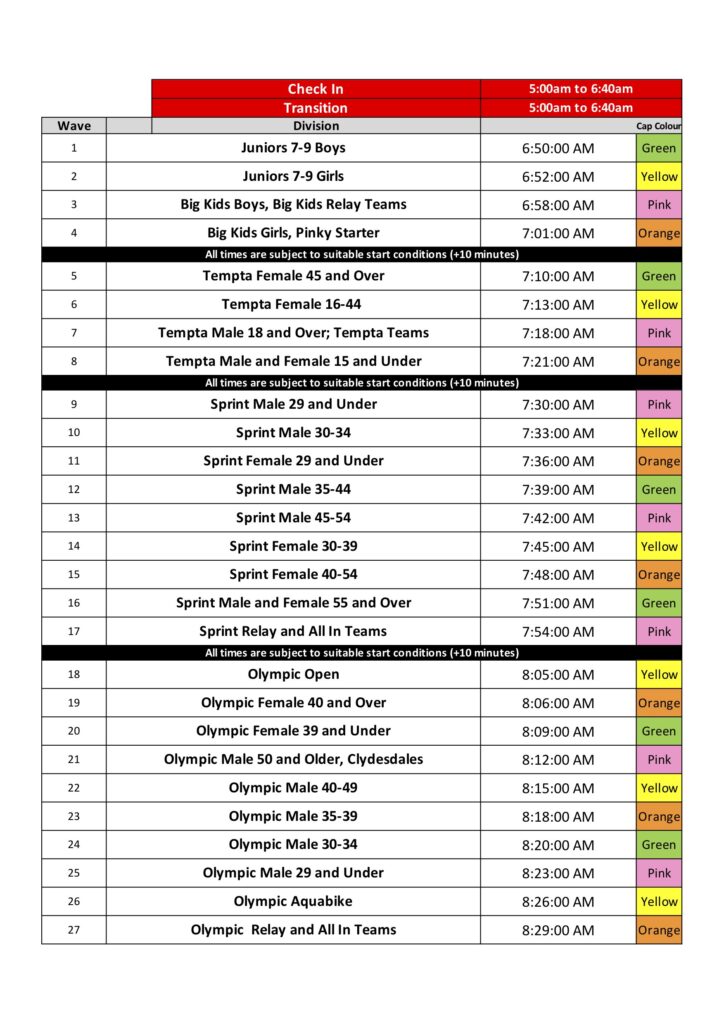 FRIDAY 17 MARCH

Take 3 For the Sea Beach Clean Up
7.00am to 7.45am

Meet on the beachside of Cudgen Headland Surf Life Saving Club.
This year at the Kingy Tri we are encouraging everyone to 

Take 3

 for the Sea! Join us on Friday morning for a beach clean up walk from the Surf Club. Everyone who comes along will be shouted a free coffee. 
Over the past year a massive 303 kilos of waste has been kept out off our waterways just by "taking 3 for the sea"! If we all do our bit – everyone benefits!
Free Barefoot Bowls
4.00pm – 6.00pm

Kingscliff Beach Bowls Club, Kingscliff. 
Join us for a free beer and a free game of barefoot bowls at the Kingy Bowls Club on Friday afternoon. Based right on the beach, this is the most scenic Bowls Club you'll ever come across – what a great way to start the weekend! 
There is a capacity of 40 people for this activity – you can RSVP here! RSVP Form. 
SATURDAY 18 MARCH
5km Park Run
8.00am

Bells Boulevard, Salt. 
Join the community for a morning Park Run through Salt, just 5 minutes from Kingscliff. The Kingy Tri crew will be onsite handing out over $750 in lucky door prizes and joining the fun.  
Free Community Ocean Swim
9.00am to 10.30am

Meet at the boat ramp on Marine Parade, Kingscliff. 
Join us for a Free Community Swim across 1000m and 400m distances. Plus there will be a Kids Splash n' Dash for all the littlies. 
Registration will be open from the boat ramp 30 minutes prior. 
*Note all times are local New South Wales.
Bells Boulevard, Salt Village, Kingscliff

Kingscliff Community Hall

Transition Open

2.00pm - 5.00pm

Faulks Park
Kingscliff Community Hall

Transition

5.00am - 6.40am

Faulks Park

Bag Drop

5.00am - 12.00pm

Kingscliff Community Hall
*All times subject to final entry numbers.
FREQUENTLY ASKED QUESTIONS