RELAY TEAMS & ALL IN TEAMS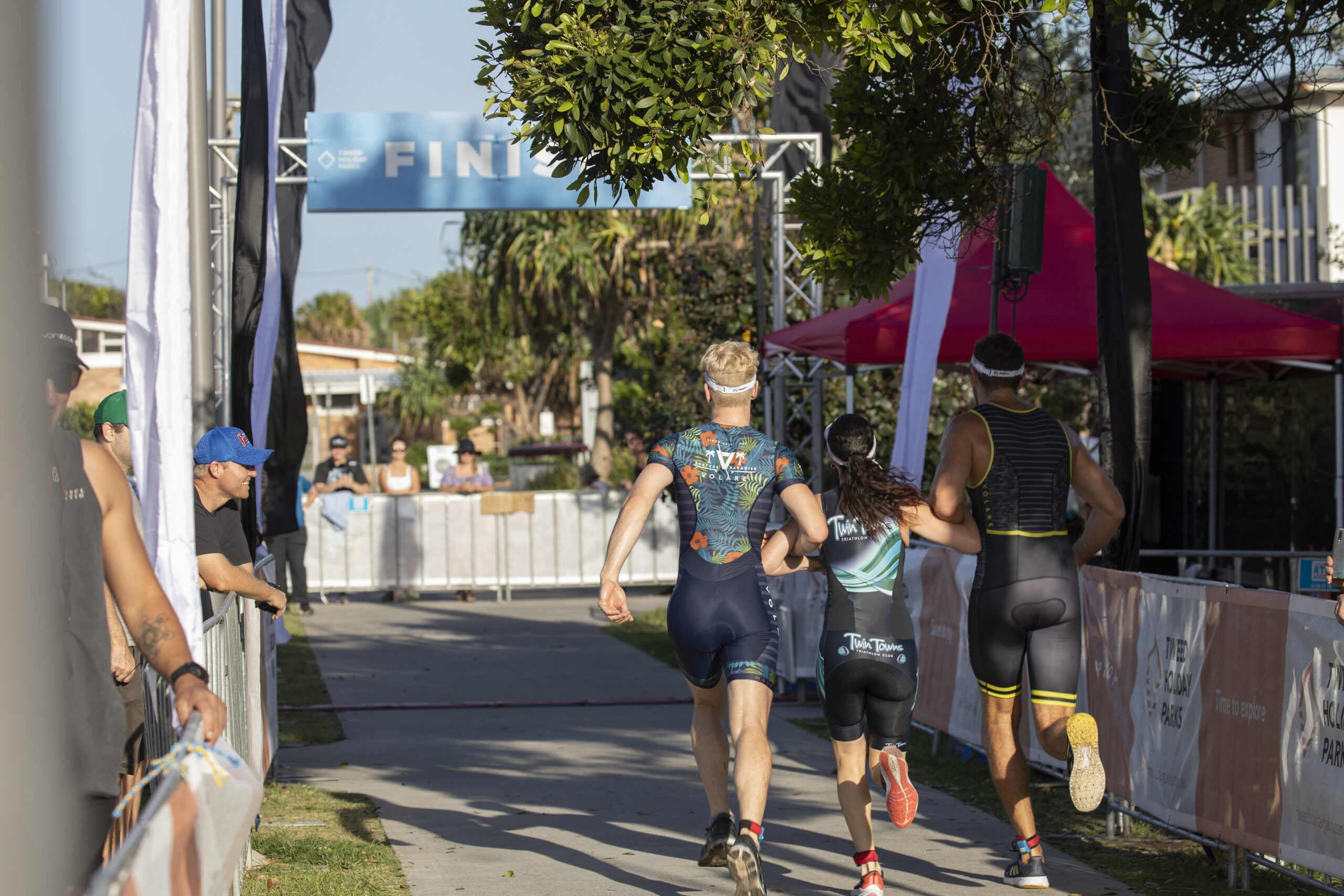 GRAB YOUR CREW AND CONQUER KINGY!
Take your pick of a Relay or All In Team in the Olympic or Sprint distance. There is also a relay for our Big Kids who may like to race with their buddies! 
Dates

Sunday 19 March 2023

Distances

Olympic: 1500m swim, 40km cycle, 10km run

Sprint: 750m swim, 20km cycle, 5km run

Tempta: 300m swim, 10km cycle, 2.5km run

Big Kids: 200m swim, 6km cycle, 1km run

Swim Start
Cudgen Creek
Categories

Relay Teams – Bring together your squad and challenge your specialty. One athlete completes each leg of the triathlon, passing the timing chip to the next athlete in transition. Create your team with any combination of men or women. Teams can be of two or three members.

All In Teams – Train together, race together. Grab some mates, and each challenge all three legs of a full triathlon. Each team will receive their individual time and cumulative team time. Create your team with any combination of men or women. Teams must be of three members.

Minimum age for Olympic is 15 years, Sprint is 14 years, Tempta is 12 years and Big Kids is 10 years – all ages calculated as at 31 December 2022. 
| | | | | |
| --- | --- | --- | --- | --- |
|   | SUPER EARLY BIRD (Ends 30 June) | EARLY BIRD (Ends 30 September) | REGULAR (Ends Friday the week prior to the event) | RACE WEEK (Closes Friday the day before the event) |
| Olympic Relay Team | $187 | $207 | $227 | $237 |
| Olympic All In Team | $257 | $299 | $327 | $337 |
| Sprint Relay Team | $139 | $155 | $170 | $180 |
| Sprint All In Team | $185 | $199 | $225 | $235 |
| Tempta Relay Team | $115 | $137 | $157 | $167 |
| Tempta All In Team | $177 | $187 | $207 | $217 |
| Big Kids Relay Team | $55 | $75 | $95 | $105 |
TA License
If all three members of the team are not a Triathlon Australia Member, you will need a One Day Licence.
If all three team members do not have a Triathlon Australia licence, a One Day Licence will be added at checkout. This One Day Licence added at checkout will cover the whole team. Each individual is responsible to ensure their insurance is up to date or they will be uninsured. .
If you are participating in more than one event this season, consider becoming a Triathlon Australia Annual Member.
*Note all times are local New South Wales.
Bells Boulevard, Salt Village, Kingscliff

Transition Open

2.00pm - 5.00pm

Faulks Park
Transition

5.00am - 6.00am

Lions Park

Bag Drop

5.00am - 12.00pm

Lions Park
*All times subject to final entry numbers.
Tri Rules
All our Events are governed by Triathlon Australia Policy and Rules. Full details can be accessed as follows Triathlon Australia Race Competition Rules.
Insurance
If you are not a Triathlon Australia Member, you will need a One Day Licence.
TEAMS: All members of your team must be current Triathlon Australia Members or a One Day Licence must be bought to cover the team.
One Day Licences are automatically added to your entry at time of purchase if you do not enter a valid Triathlon Australia number.
If you intend to compete in more than one event, then it may be worth considering an Annual Membership of Triathlon Australia.
Withdrawals
To request a withdrawal, transfer or refund you must email kingsclifftri@nxsports.org in advance of the event.
Refer to our Terms & Conditions for details.
Wave Starts
Wave starts will be uploaded on the Monday prior to the event.
Start List
Start lists will be uploaded closer to the event date.
Registration
Registration is planned to open on Saturday afternoon from 2.00 PM - 5.00 PM outside the Cudgen Surf Lifesaving Club. If you can't make it on Saturday arvo, you can sign on and rack on the day from 5.00 AM and until ten minutes before the first wave start.
When you arrive at the venue you will need to sign in at the registration area. Line up based on your age group, you will then be asked for your surname and first name.
You will receive your registration pack which will include:
Bike Sticker 
Helmet Sticker
Bib Number - Put this on your shirt (front) with safety pins or on your race belt.
Timing band - Around your left ankle.
Swim cap - Make sure it is the right colour for your wave.
If you are a team, one team member can collect your team race kit for the whole team at registration.  
Bike Racking
Bike racking is available on Saturday afternoon 2:00PM - 5:00PM and there is overnight security provided.
Before you can enter transition you must have your bike sticker and helmet stickers affixed.  You must also wear your helmet for Officials inspection.
Only race kit is permitted to stay in transition - for all other items, you must use the bag drop.
Bag Drop
Bag drop will be located under the Surf Club. 
Parking
Parking for athletes and supporters is available at three primary locations. Athletes and supporters will be assisted in parking by traffic controllers.
Parking is central to registration and transition. Do not park illegally or across driveways as this causes stress within the community. A reminder that council will be onsite all day giving out fines after previous problems.
Parking will not be available on the course, or in many of the streets adjacent to Marine Parade, such as Pearl Street or Seaview Street. It is strictly forbidden to park in the Kingscliff Shopping Village and Woolworths, and athlete's vehicles will be towed.
Parking is available at:
- Rotary Park next to Sutherland Street Bridge
- Jack Julius Park next to Sutherland Street Bridge
- Jack Bayliss Park (site of Kingscliff Markets) north of Bowls Club on Marine Parade
Please do not park illegally as council will be onsite all day giving out fines.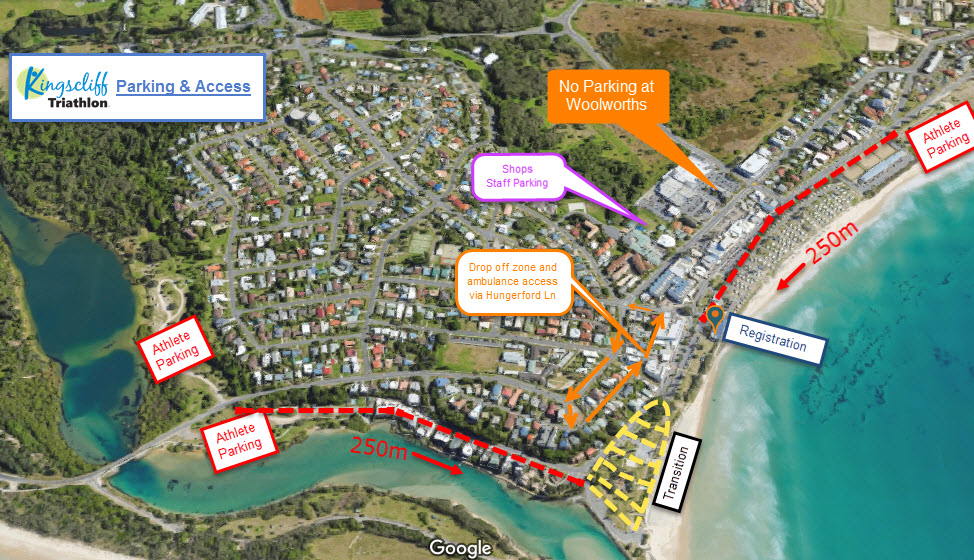 FREQUENTLY ASKED QUESTIONS